With little major economic news, it was a quiet week for mortgage markets, and rates ended nearly unchanged last week.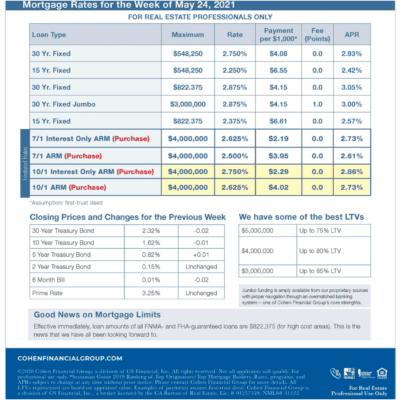 Home Prices Continue to Climb
A lack of inventory remained a major obstacle for the housing sector, as April existing home sales unexpectedly fell 3% from March. Despite the modest decline, sales still were 34% higher than a year ago (which is somewhat misleading due to the partial shutdown of the economy at that time) and 11% higher than April 2019. The median existing-home price jumped 19% from last year at this time to a record level of $341,600.
New Home Construction Falters
On a darker note, the number of homes for sale was 21% lower than a year ago. This represents just a 2.4-month supply nationally, well below the 6-month supply which is considered a healthy balance between buyers and sellers. Given the critical need for more homes in many areas, the report on housing starts released last week was a bit disappointing. In April, housing starts fell 10% from March, which was below expectations. Builders say that rising prices and shortages for land, materials, and skilled labor are restraining the pace of construction.
 Fed Remains Coy on Bond-Buying Program
As the economy gradually improves, it is expected that the Fed at some point will reduce the loose monetary policy measures implemented during the pandemic to help the recovery. In the detailed minutes from the April 28 Fed meeting released on Wednesday, investors primarily were seeking guidance on the timing for scaling back the Fed's massive bond-buying program. According to the minutes, some officials felt that if the economy continued to improve rapidly "it might be appropriate at some point in upcoming meetings to begin discussing a plan" for a reduction in bond purchases. Investors who were hoping for a more precise time frame were disappointed.
Major Economic News Due This Week
Looking ahead, investors will continue watching global Covid case counts and vaccine distribution. Beyond that, New Home Sales will be released tomorrow and Pending Home Sales on Thursday. The core PCE price index, the inflation indicator favored by the Fed, will come out on Friday