Favorable Mortage Rate News
The major labor market data released last week suggested that extremely tight conditions may be loosening more quickly than anticipated. This was favorable news for mortgage markets, and rates ended last week a little lower, down from the highest levels in decades.

Job Growth At Typical Levels
The latest key Employment report was a bit weaker than expected overall. Job growth continues to slow from its recent rapid pace back to more typical levels, and wage growth is moderating. The economy added 187,000 jobs in August, a little above the consensus forecast, but the results for prior months were revised considerably lower. The largest gains were seen in health care, leisure, and hospitality.

Fed Keeping Eye on Wage Growth
Average hourly earnings, an indicator of wage growth, increased 0.2% from July, slightly below the consensus forecast of 0.3%. Earnings were 4.3% higher than a year ago, down from an annual rate of increase of 4.4% last month. Fed officials keep a close eye on wage growth because it generally raises future inflationary pressures.

Labor Pool Expands Triggering Uptick in Unemployment
The unemployment rate unexpectedly increased from 3.5% to 3.8%, the highest level since February 2022. Looking below the surface, however, the increase was entirely due to a huge surge of new workers entering the labor force rather than people losing jobs. Since the unemployment rate measures the percentage of the labor force without jobs, an increase in the pool of individuals seeking work causes the rate to rise even if the number of employed people remains the same.

Weak Labor Market Favorable for Mortgage Rates
The JOLTS (Job Openings and Labor Turnover Survey) report hinted at looser conditions in the labor market as well. At the end of July, there were 8.8 million job openings, far below the consensus forecast and the lowest level since March 2021. Since a lower number of openings means that there is less need for companies to raise wages in order to hire enough workers, this weaker than expected data was favorable news for mortgage rates.

Core PCE Remains Above Fed Target Level
The PCE price index is the inflation indicator favored by the Fed. In July, Core PCE, which excludes food and energy to reduce volatility, was up 4.2% from a year ago, matching the consensus forecast. Costs of services continued to increase more than prices for goods. While it has come down from its peak in September of 5.2%, the annual rate of increase in Core PCE remains far above the Fed's target level of 2.0%.
Major Economic News Due This Week
Investors will continue to watch for Fed officials to elaborate on their plans for future monetary policy. It will be a very light week for economic reports. The ISM national services sector index and the Trade Deficit will be released on Wednesday. Mortgage markets were closed on Monday in observance of Labor Day.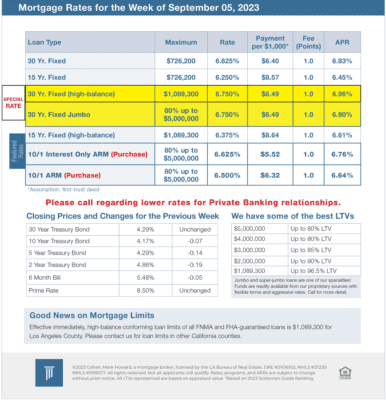 Mortgage Rates for the week of 9-05-2023