Mortgage Rates at Highest Levels
Once again, the major economic data released last week contained few signs that the economy is slowing. As a result, Fed officials remained concerned about bringing down inflation and suggested that the federal funds rate may need to rise even more. Against this backdrop, mortgage rates reached their peaks for the year and now stand near their highest levels in decades.

Strong Online Retail Sales
Despite numerous headwinds such as higher prices and credit card rates, consumer spending has continued to exceed the forecasts of economists. In July, retail sales surged 0.7% from June, far above the consensus for an increase of 0.4%. Particular strength was seen at online retailers and sporting goods stores, while sales of furniture and appliances declined significantly from June.

High Rates, Tighter Credit, and Labor Cost Slow Pace of Construction of New Homes
With a severe shortage of previously owned homes available for sale in many regions, additional inventory is badly needed, and the latest data was somewhat encouraging. In July, single-family housing starts rose 7% from June and were 10% higher than last year at this time. Single-family building permits, a leading indicator, increased for the fifth straight month. On a more negative note, a separate survey of home builder sentiment from the NAHB unexpectedly posted a large decline. Builders continue to list high mortgage rates, tight credit conditions for loans, and rising prices for land, labor, and materials as obstacles to a faster pace of construction.

Inflation Shows Need for Further Tightening of Monetary Policy
The minutes from the July 26 Fed meeting released on Wednesday contained no significant surprises. Investors are trying to figure out whether there will be another increase in the federal funds rate later this year, but officials offered no additional guidance. Instead, they again emphasized that future decisions will be based on incoming economic data. According to the minutes, most officials continued to see "significant upside risks" to inflation which "could require further tightening" of monetary policy.

Major Economic News Due This Week
Investors will continue to watch for Fed officials to elaborate on their plans for future monetary policy. It will be a light week for economic reports, with a focus on the housing sector. Existing Home Sales will be released on Tuesday and New Home Sales on Wednesday. Durable Orders will come out on Thursday. In addition, Fed Chair Powell will be speaking at the Jackson Hole economic summit on Friday.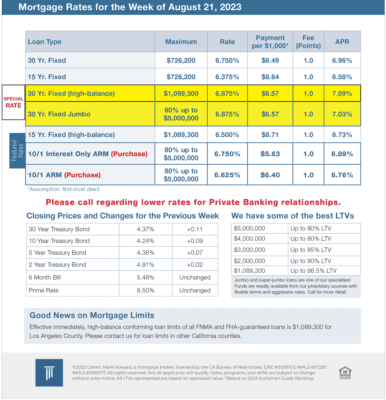 Mortgage Rates for the week of 8-21-2023