During a light week for economic news, the biggest event was the European Central Bank (ECB) meeting. The ECB surprised some investors with its aggressive move to tighten monetary policy to fight inflation, which was favorable for mortgage markets. As a result, mortgage rates ended lower last week.
ECB Raises Rates
Last Thursday, the European Central Bank (ECB) raised rates by 50 basis points, its first increase in eleven years. Many investors had expected a smaller rate hike of only 25 basis points. The main reason for the monetary policy tightening is that inflation in the eurozone is at record high levels. Since raising the short-term rates controlled by the central bank slows economic growth, it reduces future inflationary pressures, which is good for mortgage rates.
Median Home Price hits Another High
Sales of existing homes fell for the fifth straight month in June to the lowest level since June 2020 and were 14% lower than last year at this time. On a more positive note, inventory levels were 2% higher than a year ago, the first annual increase in three years, but still at a low 3.0-month supply nationally. The ever-climbing median existing-home price was 13% higher than a year ago at a record $416,000.
Housing Starts Lowest Levels in Two Years
While more inventory is badly needed in many regions, the latest data was not encouraging. In June, housing starts of single-family units dropped 8% from May to the lowest level in two years. A separate survey of home builder sentiment from the NAHB declined far more than expected to the lowest reading since May 2020. Higher prices and shortages for land, materials, and skilled labor again were listed as major issues holding back a faster pace of construction.
Higher Mortgage Rates Hurts Application Volume
Higher mortgage rates have taken a large toll on mortgage application volumes, which are now at the lowest level since 2000. According to the latest data from the Mortgage Bankers Association (MBA), average 30-year fixed rates are over 2.5% higher than a year ago. Purchase applications are down 19% from last year at this time, and applications to refinance a loan have plunged a shocking 80% from one year ago.
Major Economic News Due This Week
Looking ahead, the next Fed meeting will take place on Wednesday. Investors anticipate a 75 basis point rate hike and will look for additional guidance on the pace of future rate hikes and bond portfolio reduction. Beyond that, New Home Sales and Consumer Confidence will be released on Tuesday. Second quarter GDP, the broadest measure of economic activity, will come out on Thursday. The core PCE price index, the inflation indicator favored by the Fed, will be released on Friday.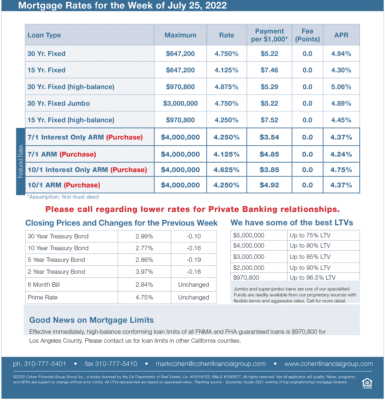 mortgage rates week of 7-25-2022