Global Central Banks Reduce Growth Outlook
With global central banks aggressively tightening monetary policy to fight inflation, investors reduced their outlook for economic growth. As a result, mortgage rates declined from the highest levels since 2008 seen week before last week.
Investors Fear Inflation

The PCE price index is the inflation indicator favored by the Fed. In May, core PCE was 4.7% higher than a year ago, a little below expectations, and down from 4.9% last month. For comparison, the annual rate of increase was below 2.0% during the first three months of 2021. One of the big questions for investors is how quickly inflation will moderate as disruptions due to the pandemic and the conflict in Ukraine are resolved.
Manufacturing Index Levels Show Promise
Another significant economic indicator released last week from the Institute of Supply Management (ISM) dropped to the lowest level since June 2020. The national manufacturing index fell to 53.0, below the consensus forecast of 54.5. Still, levels above 50 indicate that the sector is expanding.
Divergences Scale Back Consumer Spending
With inflation in focus, the monthly report on consumer confidence published by the Conference Board has been receiving more attention lately, since it may provide hints about upcoming changes in spending habits. The latest reading released last week revealed a larger than expected decline to the lowest level since February 2021.
There were also some interesting divergences in the details of the report. While consumers expected the labor market to remain very strong, they said that they intended to scale back a little on purchases of large appliances and motor vehicles and to make major cuts in vacation plans later in the year.
Major Economic News Due This Week
Looking ahead, investors will continue to look for additional Fed guidance on the pace of future rate hikes and bond portfolio reduction. Beyond that, the key Employment report will be released on Friday, and these figures on the number of jobs, the unemployment rate, and wage inflation will be the most highly anticipated economic data of the month. The ISM national services sector index will come out on Wednesday. Mortgage markets were closed on Monday in observance of July Fourth.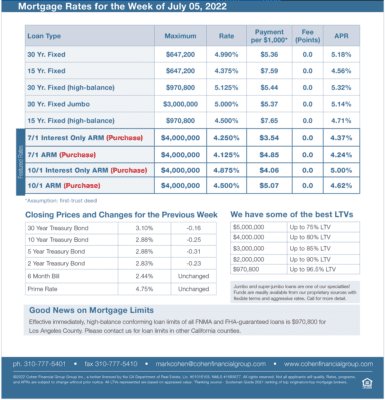 mortgage rates week of 7-05-2022