Investors Not Betting on Economic Growth
With global central banks aggressively tightening monetary policy to fight inflation, last week investors reduced their outlook for economic growth. As a result, mortgage rates declined from the highest levels since 2008 seen last week.
Existing Home Market Declined for Fourth Straight Month
In May, sales of existing homes, which make up about 90% of the market, declined for the fourth straight month to the lowest level since June 2020 and were 9% lower than last year at this time. Inventory levels, down 4% from a year ago, remained a big trouble spot, as the number of homes for sale was at just a 2.6-month supply nationally. The median existing-home price was 15% higher than a year ago at a record $407,600.
Home Sales Mixed Highs and Lows
Also notable, the mix of homes currently selling has been changing. Sales of homes priced between $100,000 and $250,000 were 27% lower than a year ago. Rising prices and competition from investors have made it more difficult for buyers to find affordable homes, especially at the lower end of the market. By contrast, sales of homes priced between $750,000 and $1,000,000 jumped 26% during that period.
On a brighter note, new home sales, which account for the remaining 10% of the market, surprised investors with a substantial gain of 11% from April. In addition, the median new-home price fell modestly from the record high recorded last month.
Fed Chair Facing Recession Challenge
In his semiannual testimony to Congress, Fed Chair Powell told lawmakers that the Fed is "strongly committed" to bringing down inflation. He described current economic conditions as generally favorable with solid consumer demand and a strong labor market. When asked about the likelihood that the Fed will be able to aggressively tighten monetary policy without causing a recession, Powell acknowledged that it will be "very challenging." He also noted that the war in Ukraine and the shutdowns in China due to Covid were adding to inflationary pressures.
Major Economic News Due This Week
Looking ahead, investors will continue to closely follow news on Ukraine and Covid case counts in China. They will also look for additional Fed guidance on the pace of future rate hikes and bond portfolio reduction. Beyond that, the core PCE price index, the inflation indicator favored by the Fed, will be released on Thursday. The ISM national manufacturing index and Construction Spending will come out on Friday.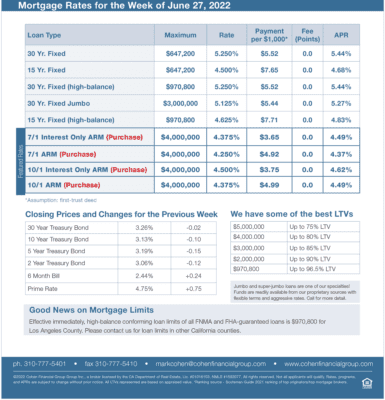 mortgage rates week of 6-27-2022