Investors Focused on Inflation
With investors laser focused on any news about inflation, the latest data released last week in the U.S. and Europe revealed larger than expected price increases. As a result, mortgage rates climbed a bit to the highest levels since November.

ISM Levels Below Fifty
Perhaps the most significant economic report released last week was close to expectations. The ISM national manufacturing index rose a little to 47.7, but levels below 50 indicate that the sector is contracting. The negative reaction for mortgage rates, however, was caused by a surprisingly large increase in the prices paid component of the report, another sign that the Fed's battle against inflation will be protracted.

Eurozone Consumer Prices Higher
The latest news from Europe also disappointed investors hoping for signs that inflation is easing. Eurozone consumer prices in February were 8.5% higher than a year ago, well above the consensus forecast of 8.2%. Excluding the volatile food and energy categories, core inflation jumped to a record high annual rate of 5.6%, up from 5.3% during the prior month. In short, the high readings clearly supported additional monetary policy tightening by the European Central Bank, and investors raised their outlook for future rate hikes.

Purchase Applications Down
It should come as no surprise that mortgage rates have a huge impact on mortgage application volumes. When rates declined significantly in January, applications shot higher. Over the last month, however, rates have jumped again, putting a heavy damper on housing market activity. According to the latest data from the Mortgage Bankers Association (MBA), purchase applications are down 44% from last year at this time, at the lowest level in 28 years. Even worse, applications to refinance are down a massive 74% from one year ago.

Major Economic News Due This Week
Investors will be closely watching to see if Fed officials elaborate on their plans for future rate hikes. The key Employment report will be released on Friday, and these figures on the number of jobs, the unemployment rate, and wage inflation will be the most highly anticipated economic data of the month. Before that, the Trade Deficit and the JOLTS (job openings) data will come out on Wednesday.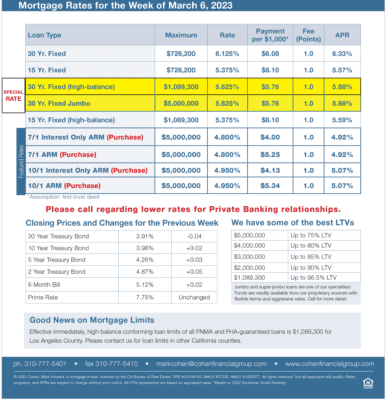 Mortgage Rates for the week of 3-06-2023