Stronger Than Expected Inflation Data
The major inflation data released last week was stronger than expected. As a result, mortgage rates climbed to the highest levels since November.

PCE Price Indes Favored By Fed
The PCE price index is the inflation indicator favored by the Fed. In January, core PCE, which excludes the volatile food and energy components, was up 4.7% from a year ago, far above the consensus forecast of 4.3%. This was the highest annual rate since October 2022.

Core PCE Above Fed's Target Level
The annual rate of increase in Core PCE remains far above the Fed's target level of 2.0%. Since September, it had been steadily declining each month, but the latest data broke the streak with a small increase from the annual rate of 4.6% seen in December. While many investors thought that it would continue to ease every month, Fed officials have been warning repeatedly that the battle will be difficult, with both ups and downs along the way. This is particularly relevant because how quickly their aggressive monetary policy tightening will bring down inflation has enormous implications for financial markets.

Housing Market Fell For the Twelfth Straight Month
In housing news, sales of existing homes, which make up about 90% of the market, fell for the twelfth straight month in January to the lowest level since 2010 and were 37% lower than last year at this time. Inventory levels remained a big trouble spot. While they were 15% higher than a year ago, they remained at just a 2.9-month supply nationally, still far below the roughly 6.0-month supply which is typically seen in a balanced market. The median existing-home price of $359,000 was just 1.3% higher than last January, down from a record high of $413,800 in June. This was the smallest annual rate of price appreciation since 2012, and economists forecast that we will soon see year-over-year price declines. By contrast, new home sales, which account for the remaining 10% of the market, surprised investors with a nice gain of 7% from December.

Major Economic News Due This Week
Investors will be closely watching to see if Fed officials elaborate on their plans for future rate hikes. The ISM national manufacturing index will be released on Wednesday and the ISM national services sector index on Friday. Often released on the first Friday of each month, the key Employment report instead is scheduled for March 10.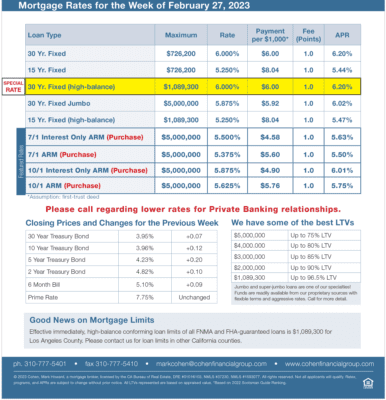 Mortgage Rates for the week of 2-27-2023