Inflation – More Work to be Done
During a very light week last week for economic data, investors mostly took their cue from the Fed. The message from officials was loud and clear that more work needs to be done to bring down inflation, meaning tighter monetary policy. As a result, mortgage rates ended the last week higher.

Inflation May Require More Federal Rate Hikes
In a speech on last Tuesday, Fed Chair Powell emphasized that due to the exceptional strength of the labor market, bringing down inflation may take longer and require more rate hikes than many investors have been anticipating. Referring to the job gains in the latest Employment report that blew away even the highest forecasts of economists, he said it shows why returning inflation to the Fed's annual target rate of 2.0% may be a "process that takes a significant period of time." Powell also repeated that monetary policy will be determined by incoming data, suggesting that the amount of tightening could be adjusted in either direction from the current outlook based on future economic reports.
In addition to the Employment data, another reason for the caution displayed by Fed officials has been the strength of recent reports on jobless claims. The Department of Labor releases the total number of new claims for unemployment insurance each week, and the latest reading was just 196,000. So far this year, claims have averaged just 195,000 per week, even lower than the 220,000 per week seen in 2019, which was a very tight labor market by historical standards.

Mortgage Applications Showing Signs of Life
According to the latest data from the Mortgage Bankers Association (MBA), mortgage application volumes, which recently were at the smallest levels in 25 years, have finally shown some signs of life. Purchase applications rose moderately, by 3%, but are still down 37% from last year at this time. Applications to refinance jumped 18% from the prior week, but remain down a massive 75% from one year ago.

Major Economic News Due This Week
Investors will be closely watching to see if Fed officials elaborate on their plans for future rate hikes. The most anticipated economic report of the week, the Consumer Price Index (CPI), will be released on Tuesday. CPI is a widely followed monthly inflation indicator that looks at the price changes for a broad range of goods and services. Retail Sales will come out on Wednesday. Since consumer spending accounts for over two-thirds of U.S. economic activity, the retail sales data is a key measure of the health of the economy.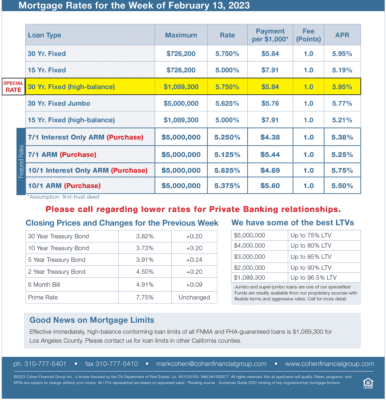 Mortgage Rates for the week of 2-13-2023