Lower Than Expected Inflation
Quite simply, the highly anticipated inflation data released last week was lower than expected, which was great news for mortgage markets. Consumer spending also slowed sharply from last month. As a result, rates ended the week lower.

Core CPI Down
The Consumer Price Index (CPI) is one of the most widely followed inflation indicators. Mostly due to lower energy prices, CPI was 3.2% higher than a year ago, down from an annual rate of increase of 3.7% last month. To reduce short-term volatility and get a better sense of the underlying inflation trend, investors often prefer to look at core CPI, which excludes the food and energy components. Core CPI was 4.0% higher than a year ago, down from 4.1% last month and the lowest level since September 2021.

Housing Costs Remain High
While the core CPI annual rate has fallen from a peak of 6.6% in September 2022, it remains far above the readings around 2.0% seen early in 2021, which is the stated target level of the Fed. Progress in the battle against inflation has been slow due to persistently high prices in certain areas, but this month most of those individual components of the CPI report revealed favorable news. Shelter (housing) costs remained elevated and again were responsible for the largest portion of the increase, but they are easing. In October, they rose just 0.3%, far below their increase of 0.6% in September. Used vehicle prices were down 7.1% from a year ago, and airfares were 13% lower than last year at this time. One glaring exception to the positive news was motor vehicle insurance which was up 1.9% for the month and 19% from a year ago.

Credit Card Interest Rates Affecting Retail Sales
Heading into the key holiday shopping period, higher prices and credit card rates finally may be taking their toll on consumer spending. After surging 0.9% in September, retail sales fell slightly in October, the first monthly decline since March. Electronics and appliance stores posted the strongest gains, while weakness was seen at auto dealers and furniture stores.

Housing Market Likely to Improve
Given the severe shortage of homes in many regions, additional inventory continues to be desperately needed, but the data released this week was mixed. In October, single-family housing starts increased 0.5% from September, and single-family building permits, a leading indicator, also rose slightly. On the flip side, a separate survey of home builder sentiment on housing market conditions from the NAHB unexpectedly fell to the lowest level since December 2022. It should be noted that mortgage rates were much higher during October than they are now, meaning that these reports are likely to show improvement.

Major Economic News Due This Week
Investors will continue to watch for Fed officials to elaborate on their plans for future monetary policy. For economic reports, Existing Home Sales will be released on Tuesday. After that, the schedule will be very light until Personal Income and the PCE price index, the inflation indicator favored by the Fed, come out on November 30. Mortgage markets will be closed on Thursday for Thanksgiving.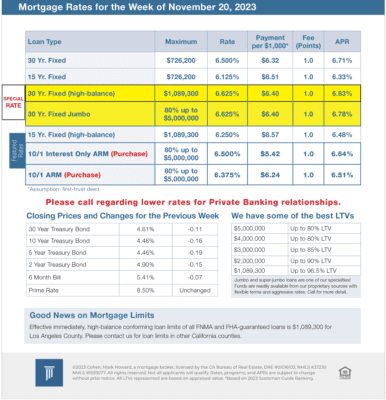 Mortgage Rates for the week of 11-20-2023