Quiet Week
During a very light week last week for economic reports, market moving events were scarce. After falling sharply two weeks ago, mortgage rates ended just slightly higher, still far below their recent peak.

Inflation Fight Continues
Since the beginning of 2022, the Fed raised the federal funds rate at eleven consecutive meetings and then held steady at the last two. Investors are divided about whether there will be any additional rate hikes in coming months, and a speech by Chair Powell on last Thursday raised expectations a bit for an even higher fed funds rate. According to Powell, a great deal of work remains to be done in fighting inflation, and officials are "not confident" that monetary policy is restrictive enough to bring it back down to their target of a 2.0% annual rate. He added that the Fed "will not hesitate" to tighten further if necessary. Powell also pointed out that improvements in supply chains have helped ease inflationary pressures, but he questioned how much additional progress would come from this source. He warned that slower economic growth likely will be needed to achieve their inflation goals.

Jobless Claims Still Strong
The Department of Labor releases the total number of new claims for unemployment insurance each week, and the latest reading was just 217,000. This was down sharply from the inflated figures seen during the early months of the pandemic and a little lower than the levels which were typical during 2019. Although some other recent economic reports such as nonfarm payroll growth and job openings have suggested some easing of the tightness in the labor market, the data on jobless claims has remained consistently strong.

Slight Improvement in Mortage Applications
While higher rates have caused mortgage application volumes to fall recently to the lowest levels in 28 years, the latest data from the Mortgage Bankers Association (MBA) revealed some improvement. Purchase applications rose 3% from the prior week but remain down 20% from last year at this time. Applications to refinance increased 2% from two weeks ago and are just 7% lower than one year ago.

Major Economic News Due This Week
Investors will continue to watch for Fed officials to elaborate on their plans for future monetary policy. For economic reports, the Consumer Price Index (CPI) will be released on Tuesday. CPI is a widely followed monthly inflation indicator that looks at the price changes for a broad range of goods and services. Retail Sales will come out on Wednesday. Since consumer spending accounts for over two-thirds of U.S. economic activity, the retail sales data is a key measure of the health of the economy. Housing Starts will be released on Friday.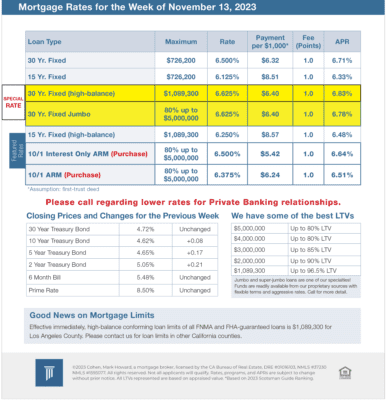 Mortgage Rates for the week of 11-13-2023