Inflation Data Causes Volatility for Mortgage Markets
With major inflation data, the GDP report, and a European Central Bank meeting, it was a volatile for mortgage markets last week. These influences were mostly offsetting, however, and mortgage rates ended slightly lower, but still remain near the highest levels in over two decades.

PCE Matching Consensus Forecast
The PCE price index is the inflation indicator favored by the Fed. In September, core PCE, which excludes food and energy to reduce short-term volatility, was up 3.7% from a year ago, matching the consensus forecast. This was down from an annual rate of 3.9% last month and the lowest level since June 2021. While still moving in the right direction, it remains far above the Fed's target level of 2.0%.

Strong Consumer Spending
Gross Domestic Product (GDP) is the broadest measure of economic activity. During the third quarter, U.S. GDP rose at an annualized rate of 4.9%, above the consensus forecast and up from 2.1% during the second quarter of 2023. This was the largest gain since the fourth quarter of 2021. Strength was seen in consumer and government spending, business investment, and inventory growth. Despite tighter monetary policy, the economy has remained surprisingly resilient and has shown few signs that it will enter a recession.

Unexpected Jump in Home Sales
Benefiting from a lack of available existing homes, sales of new homes in September unexpectedly jumped 12% from August to their best level since February 2022 and were 34% higher than last year at this time. The majority of homes sold were in the $150,000 to $500,000 range, and the median new-home price of $418,800 was 12% lower than a year ago. Builders reported a significant increase in incentives offered to help attract buyers.

ECB Holds Interest Rates to Help Inflation
After ten consecutive hikes, the European Central Bank (ECB) made no change in benchmark interest rates on last Thursday as expected. The statement released after the meeting again emphasized that future monetary policy decisions will be based on incoming economic data. During the press conference, ECB President Lagarde said that any discussion of a rate cut is "totally premature." Similar to the U.S. Fed, the ECB is planning to hold rates near current levels for quite a while to help bring down inflation.

Major Economic News Due This Week
The next Fed meeting will take place on Wednesday. No change in rates is expected, and investors will look for guidance on future monetary policy. For economic reports, the ISM national manufacturing index will come out on Wednesday and the ISM national services sector index on Friday. The JOLTS report, measuring job openings and labor turnover rates, will come out on Wednesday. The key Employment report will be released on Friday, and these figures on the number of jobs, the unemployment rate, and wage inflation will be some of the most highly anticipated economic data of the month.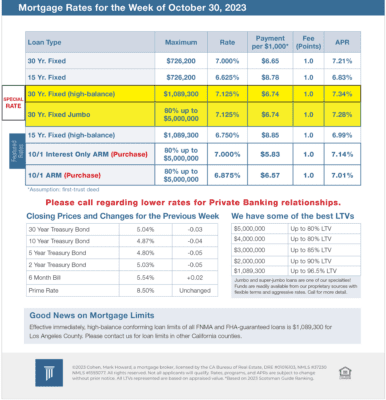 Mortgage Rates for the week of 10-30-2023