Middle East Conflicts Influence Mortgage Rates
The events in the Middle East were the dominant influence for mortgage markets last week, while the highly anticipated inflation data came in close to the expected levels. As a result, mortgage rates ended lower, falling from the highest levels in over two decades.

Geopolitical Events Trigger Need For Safer Investments
In response to geopolitical events such as the war in Ukraine which create uncertainty and could slow economic growth, investors generally seek to reduce the level of risk in their portfolios. This week, the outbreak of conflict in the Middle East caused investors to shift to relatively safer assets such as bonds. This increased demand for mortgage-backed securities (MBS), which was favorable for mortgage rates.

Fed Hints No More Rate Hikes in 2023
Comments from Fed officials also were positive for mortgage rates this week. In essence, several officials pointed out that the recent sharp increase in long-term bond yields helps achieve the same goals as raising the short-term federal funds rate in bringing down inflation by slowing economic activity. As a result, there is less need for additional monetary policy tightening, and most investors now anticipate that there will be no more rate hikes this year.

Investors Rely on Core CPI for Inflation Trends
The Consumer Price Index (CPI) is one of the most widely followed inflation indicators. In September, CPI was 3.7% higher than a year ago, the same annual rate of increase as last month. To reduce short-term volatility in the reading and get a better sense of the underlying inflation trend, investors often prefer to look at core CPI, which excludes the food and energy components. Core CPI was 4.1% higher than a year ago, down from 4.3% last month and the lowest level since September 2021.

Housing Costs Remain Elevated
While the core CPI annual rate has fallen from a peak of 6.6% in September 2022, it remains far above the readings around 2.0% seen early in 2021, which is the stated target level of the Fed. Progress in the battle against inflation has been slow due to persistently high prices in certain areas. In particular, shelter (housing) costs remained elevated and again were responsible for the largest portion of the increase.

Major Economic News Due This Week
Investors will continue to watch for Fed officials to elaborate on their plans for future monetary policy. For economic reports, Retail Sales will come out on Tuesday. Since consumer spending accounts for over two-thirds of U.S. economic activity, the retail sales data is a key measure of the health of the economy. Housing Starts will be released on Wednesday and Existing Home Sales on Thursday.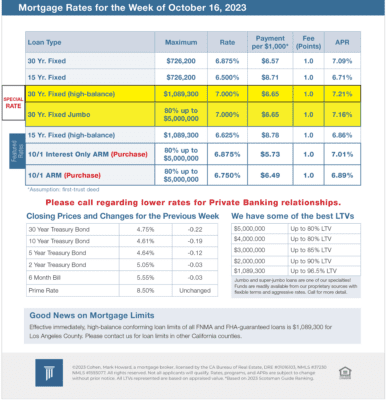 Mortgage Rates for the week of 10-16-2023